Technological challenges spur me on.
Ciro Capricano
I support your renewable energy project
To your success in the field of renewable energies at home and abroad I can bring in-depth market knowledge and a strong network of project planners, financial brokers, legal advisors and other specialists.
35 years experience in renewable energy
I have been working in the renewable energy sector since 1987. I was already involved in the development of wind turbines at the Rüsselsheim University of Applied Sciences while I was studying engineering. The "Wind Energy" research group installed there, in which I worked as a freelancer, did pioneering work. After completing my degree in physics (FH) I was deputy project manager of this research group from 1990 to 1993.
In 1994 I founded the engineering office NET, which has been planning renewable energy projects ever since.
Focus on wind power
Wind power is my main interest. As managing director of Genesys GmbH (from which Vensys emerged in 1998), I worked on the development of one of the first gearless wind turbines with a permanently excited magnet generator in cooperation with Prof. Klinger at the THW Saarbrücken. As an engineer and managing director of several companies, I am intensively involved in developing the wind market in Germany, Italy and Switzerland.

Exploit optimization potential
Not only in planning but also in practice I deal with the optimization of existing systems of different technologies.

Experienced in negotiations
I support investors and operators in negotiations with plant manufacturers and financial institutions.

I advise you
Talk to me if you are planning a renewable energy production project, need support in operation or would like to exploit optimization potential.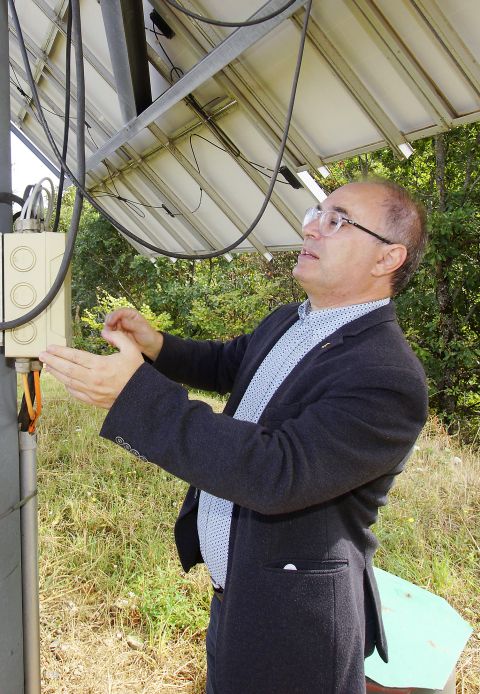 Resume
1984 - 1990

Studies at the Wiesbaden-Rüsselsheim University of Applied Sciences, graduating as Dipl-Ing. Physics (FH)
---
1987 - 1990

Employees of the research project wind energy
---
1990 - 1993

Deputy technical project manager of the wind energy research project at the Wiesbaden-Rüsselsheim University of Applied Sciences
---
1994

Foundation of the engineering office NET NeueEnergietechnik based in Diez, focus on regenerative energies
Participation in various companies for the construction and operation of wind turbines, including community wind farms, e.g. B. Founding of the citizen wind farm Beltheim/Hunsrück
Managing Director of Genesys GmbH, one of the first developers and builders of a gearless 600 kW wind turbine with a permanently excited magnet generator, from which VENSYS technology later emerged
---
1996 
Foundation and management of Enertec GmbH, planning of wind farms
---
1997

Participation in Vento GmbH, later proVENTO AG
---
1998 - 2001
Technical Director of proVENTO AG, business areas planning, construction, marketing and operation of wind farms
Co-founder of Vensys GmbH
---
1999 - 2001

Managing Director of Vensys Beteiligungs-GmbH
---
2002 - 2005

Technical Director of easyenergy ag, business areas planning, construction and marketing of wind farms and energy from biomass  
---
2005

Foundation of the company 3C - Ciro Capricano Consulting
---
2007
Founding of Heidenrod Naturenergie GmbH-Kemel, planning of an energy park with wind power, photovoltaics and biomass

---
2009
Founding of BV-solar Srl (Italy), planning, construction and operation of photovoltaic systems
---
2010
NET planning GMBH & Co KG, operation of wind turbines
Höhenwind-Park GmbH, planning and operation of community wind farms
---
2012
AdWind GmbH Operation and management of wind turbines
---
2016

Springer Wind GmbH & Co KG- operation of wind turbines
---
2018
CATH GmbH & Co. KG - holding company for renewable energy systems
ReWind GmbH - Acquisition and planning for repowering of wind turbines
NewWind GmbH – acquisition and operation of Alte WEAs
---
2019
Sunset GmbH- management and operation of wind turbines
---
2020
Trennewurth Repowering GmbH & Co. KG – operation of wind turbines

---
2021
CU-REP GMBH & Co. KG – planning and operation of wind turbines